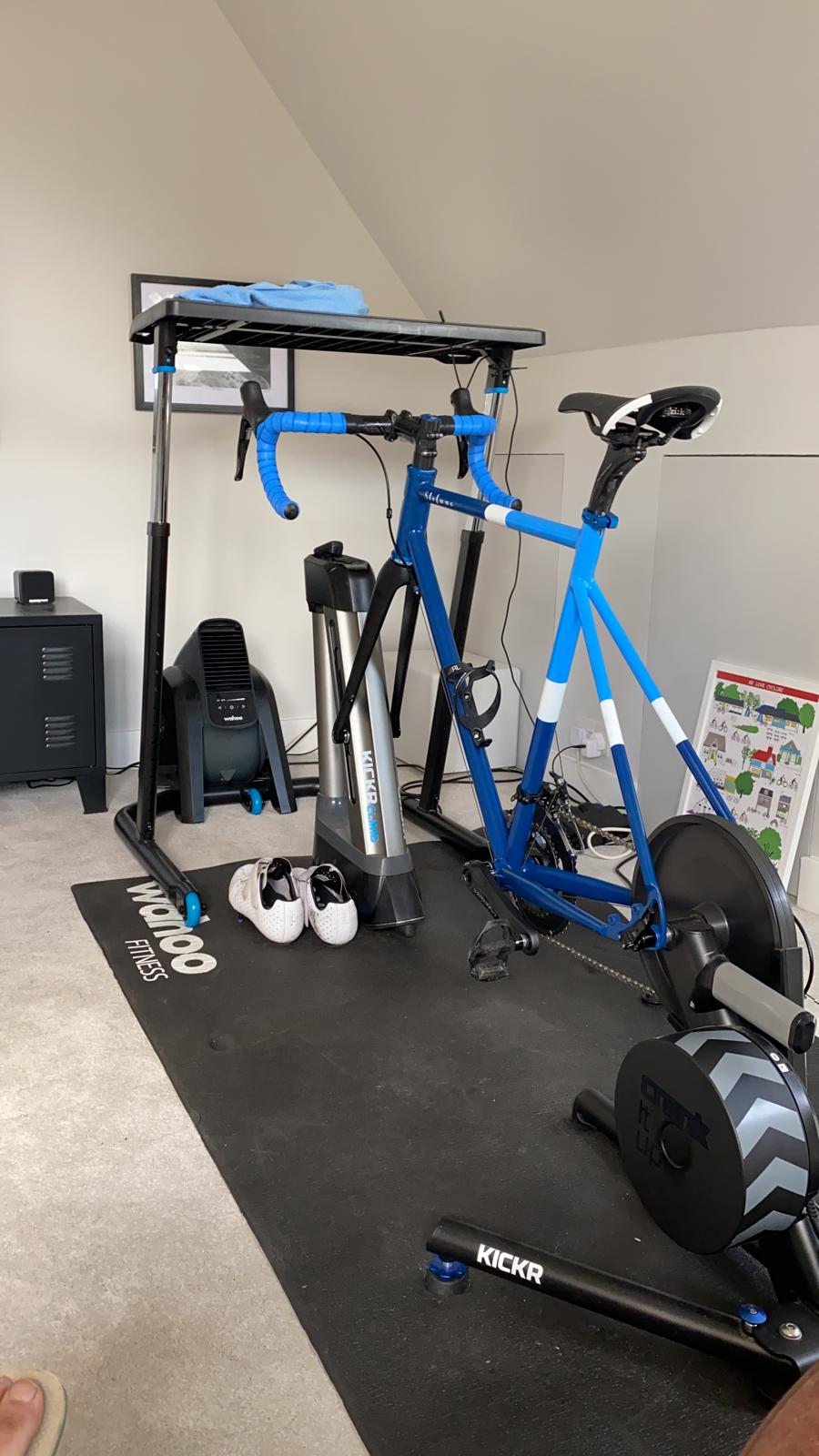 Well that's simple
its a complete faff taking your road bike on and off your trainer.

You can jump on straight away with no excuses for not training.

A made to measure frame will provide a more comfortable training experience.

It only costs around £300, so why wouldn't you?

Your friends will be very jealous.
Great! I'm sold, what's the process?
Firstly, you decide on the type of trainer bike look you want.
Next, I'll ask you to input 6 measurements into my Bike Fit Page.  This gives me the basics required to start the CAD process.  If you know what colour scheme you want then that also helps as I can add that to the design so you can really see what it will look like.
Following CAD work we will need to meet up or conference call to discuss components.  Fork selection, stem, wheel size and tyre clearance are all really important to produce the final geometry design.
I'm happy to help suggest components for all budgets and I have some helpful spreadsheets I can share.  Ideally, I'll have a bike building page coming soon to the website.
As soon as you have chosen components and signed off on the design, it is up to me to start production.
Lead time for basic steel tubing and dropouts is about two weeks. On receipt, the production will take approximately three to four weeks.
Once the frame is complete it's then up to you to either have the frame rattle can sprayed by yourself (www.spray.bike), powder coated or professionally spray painted.  There are a number of specialist bicycle spray shops.  You should expect a lead time of approximately six weeks for them to complete the frame.  Powder coating companies are generally much quicker.
When the frame is painted and back, you can then build it yourself or get a good local bike shop to do it for you.  Expect a cost of approximately £80-£100 for a trainer bike build as its only headset, forks, handlebars, bottom bracket and cranks required.